Made In Japan Quality
Miyakotex products are all made in Japan.
- We are using films and threads provided by Japanese manufactures.
- Vapor-deposition, slitting, twisting and dyeing processes are all done in Japan.
Best materials and best technology.
Miyakotex will ensure you Made In Japan quality now and forever.
Oeko-tex Standard Class 1 Certification
Certified strictest "Class 1" Oeko-tex 100 Standard.
Oeko-tex is an international safety standard for textile products
that defines a standard for harmful substances.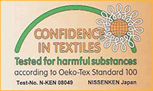 Production Process
01 Vapor deposition Attach aluminium to film.

02 Laminating / Coating Laminate or coat film depending on purpose.

03 Slit Slit film into precise shreads using a micro-slit machine.

04 Twist Twist Oeko-tex certified thread and slitted thread.

05 Dyeing Dyeing process is under Oeko-tex standard conditions.

06 Stock Keep optimum stock for sudden orders.